Alfred Thomas Davis was the son of Arthur McKinley Davis and Cora Edith Tucker.
Private Alfred T. Davis was assigned to Battery A, 60th Coastal Artillery Regiment. This unit was based in the Philippines. With the onset of war with Japan, this unit began a withdrawal to the Bataan Penisula, where pre-war battle plans decided that the Military forces could hold out until reinforcements could arrive from the States. There was no relief column. The regiment went into Japanese captivity. Japan did not sign the Geneva Convention for the proper treatment of POWs. Private Davis and 1800 other POWs were loaded onto the Hellship Arisan Maru, an unmarked cargo ship that was to transport them to Japan to be used as slave labor. On the 24th of October 1944, 225 miles east of Hong Kong, the American submarine USS Shark, without knowing who was on board, torpedoed the Arisan Maru. There were only 9 survivors of the POWs.
Private Davis was from Crossville, Tennessee. He is remembered on the Tablets of the Missing, Manila American Cemetery, Philippines.
The Crossville Chronicle, June 25, 1942
Mr. and Mrs. Arthur M. Davis, of the Fifth district, received notice that their son, Alfred T. Davis, was with the United States forces at the surrender of Corregidor, and is now reported "missing in action". Whether or not the young man is living, the government does not know, but if among those who surrendered to the Japanese, the government is expected to learn at no distant date. Mr. and Mrs. Davis will then be notified. The young men enlisted February 15, 1940.
Mr. and Mrs. Davis have a second son, Herbert Ray, who enlisted February 15, 1941. When last heard from he was at Camp Polk, La.
Rank: Private
Date of birth:
15 February 1919
Date of death: 24 October 1944
County: Cumberland
Hometown: Crossville
Service Branch: Army/Army Air Forces
Division/Assignment: 60th Coastal Artillery Regiment
Theater: Pacific
Conflict: World War II
Awards: Purple Heart with Oak Leaf Cluster
Burial/Memorial Location: Manila American Cemetery, Fort Bonifacio, Manila, Philippines
Location In Memorial: Pillar VIII, Bottom Panel
---
Image Gallery
Click a thumbnail below to view at full size.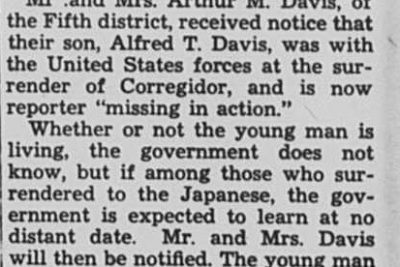 ---