Sgt. Alex Van Aalten of Tenn., was a Cookeville High School graduate where he was brigade commander for the ROTC. He signed up for the Army soon after and went to basic training at Ft. Benning in Georgia. Van Aalten served his country in Iraq in 2005 where he was a gunner on a humvee whose main objective was to run insurgents out of town so the citizens could vote. He had been in Afghanistan since January and was scheduled to be there for 15 months. June 2007 would have marked his third year in the Army, and he signed up to serve for another six years. His family moved to Monterey at an early age and he spent much of his life there. Van Aalten was a strong Christian and a leader. Before he was deployed, he taught karate to children and attended Trinity Assembly as well as Cookeville First Assembly. He also liked to go rock climbing and four-wheeling and was involved in the church youth group when he lived here. He loved serving his country. This is what he always wanted to do. He and his wife had been married for about two years. He was preceded in death by his maternal grandmother, Ella May Fowler Stokes and a paternal grandfather, Edward van Aalten Sr. He was 21. In July 2009, The bridge between Monterey exits 300 and 301 was designated the "Sgt. Alex van Aalten Memorial Bridge" in honor of the late Sgt Alex van Aalten after a Senate Joint Resolution, proposed by Sen. Charlotte Burks and Rep. Charles Curtiss was passed.
Rank: Sergeant
Date of birth:
2 September 1985
Date of death: 20 April 2007
County: Cumberland
Hometown: Cookeville
Service Branch: Army
Division/Assignment: 508th Parachute Infantry Regiment, 82nd Airborne Division
Conflict: Afghanistan
Battles: Operation Enduring Freedom
Awards: Bronze Star, Purple Heart
Burial/Memorial Location: Arlington National Cemetery, Arlington, VA
Location In Memorial: Pillar XXV, Top Panel
---
Image Gallery
Click a thumbnail below to view at full size.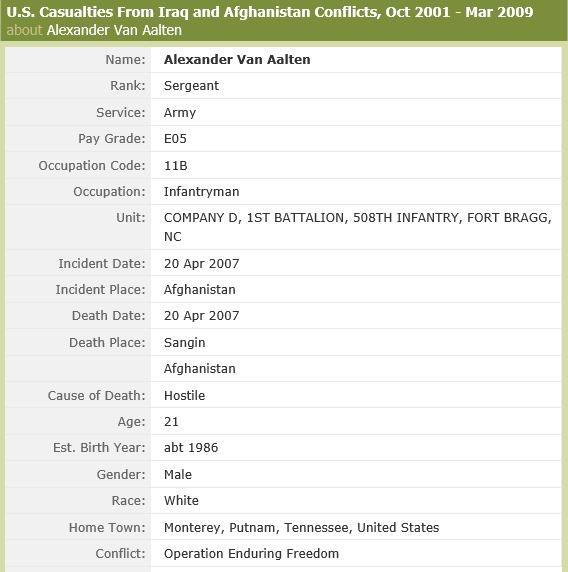 ---