Specialist 4 Albert Alan Ladd was born on September 4, 1949, and was originally from Roane County, Tennessee. He was the son of Albert S. Ladd (b. 1927) and Virginia Ladd (1932-2004). He served his country in the Vietnam War in the United States Army, as a paratrooper in C Company, 3rd Battalion, 1st Infantry, 11th Infantry Brigade, Americal Division. His tour in Vietnam began on August 30, 1968. On April 17, 1969, SP4 Ladd was killed under hostile conditions in Quang Ngai province, South Vietnam; he was 19 at the time of his death. He was the recipient of the Bronze Star and Purple Heart medals. SP4 Ladd is buried at Bethel Cemetery in Kingston, Tennessee, and is memorialized on the Vietnam Veterans Memorial on Panel 27W, Line 101.
He was the husband to Gail (Versace) Ladd, father to Kelly Lynne Ladd, and brother to Elizabeth Lorraine and Wendy Michele Ladd.
Photo provided by his daughter, Kelly L. Ladd.
Rank: Specialist 4th Class
Date of birth:
4 September 1949
Date of death: 17 April 1969
County: Roane
Service Branch: Army
Division/Assignment: 1st Infantry, 11th Infantry Brigade
Conflict: Vietnam
Awards: Purple Heart, Bronze Star
Burial/Memorial Location: Bethel Cemetery, Kingston, TN
Location In Memorial: Pillar XXIV, Top Panel
---
Image Gallery
Click a thumbnail below to view at full size.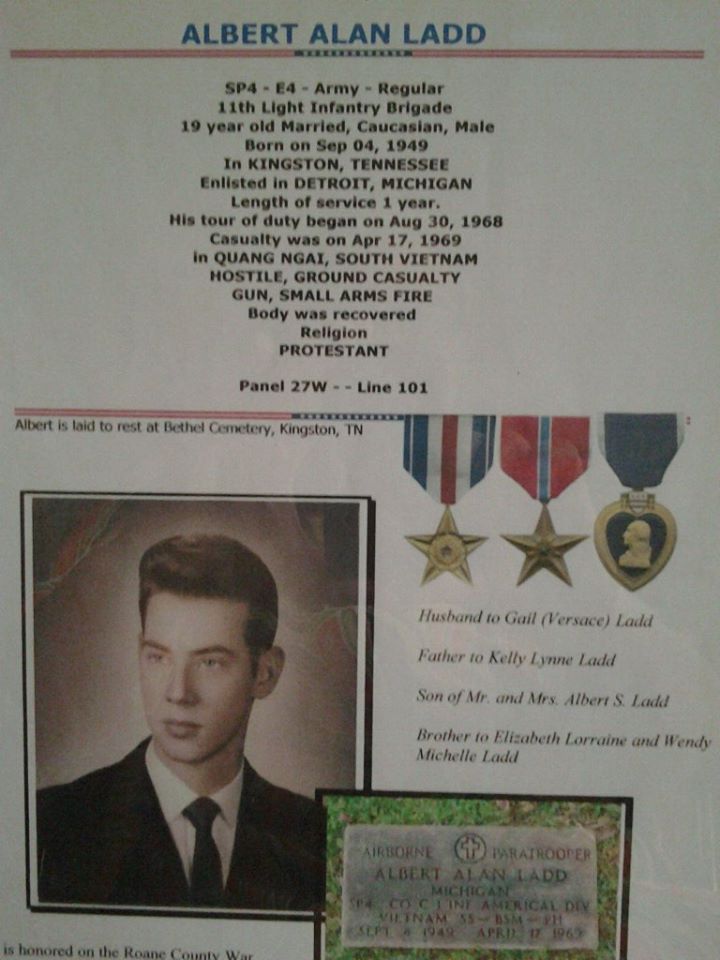 ---