The East Tennessee Veterans Memorial Association presents the 7th Annual Medal of Honor Evening, Honoring World War I Medal of Honor Recipient Sergeant James E. "Buck" Karnes, United States Army. The event will be held Monday, May 1st, 2017 at The Historic Foundry Building at 747 World's Fair Park Drive, Knoxville TN.
Social hour begins at 5:30pm, followed by dinner & presentation at 6:30pm.
---
About Sgt. James E. "Buck" Karnes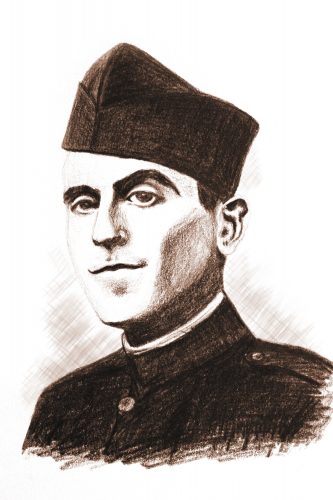 Born in Arlington, TN, Karnes grew up in Knoxville and entered active duty with the United States Army's 117th Regiment from the Tennessee National Guard during World War I.
On October 8, 1918 during the Meuse-Argonne Offensive, Karnes' company was stopped near Estrées, France by a German machine gun position. Karnes and fellow Tennessean Private Calvin John Ward, deciding they had "had all they could take" of this situation, fixed bayonets, charged and captured the position. This freed their company to advance against German lines in the last major offensive of the war. Both men received the Medal of Honor for extraordinary heroism in this action.
---
Purchase Tickets to the 2017 ETVMA Medal of Honor Evening
Proceeds from this evening will allow for the continued maintenance & preservation of the Memorial. Tax deductible as allowed by law.