Join us for the East Tennessee Veterans Memorial Association's Fifth Annual Medal of Honor Evening, celebrating the life of WWII Medal of Honor recipient T/Sgt. Charles H. Coolidge, United States Army. The event will be held Monday, May 4, 2015 at The Historic Foundry Building at 747 World's Fair Park Drive, Knoxville TN. Social Hour begins at 5:30 pm, with Dinner and Presentation at 6:30. Purchase tickets »
About T/Sgt. Charles H. Coolidge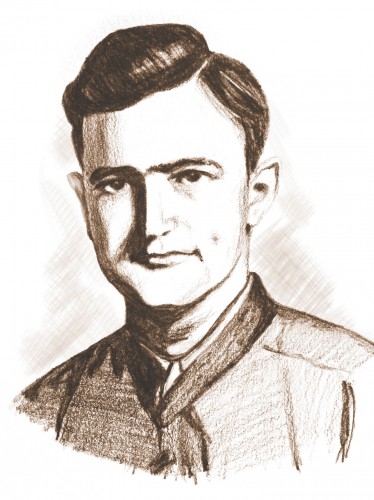 Running into an enemy infantry company. in the woods east of Belmont sur Buttant, France, on 24 October 1944, Coolidge attempted to bluff the Germans and called upon them to surrender, whereupon the enemy opened fire, and with no officers present, T/Sgt. Coolidge assumed command.
Over the next 48 hours, the enemy launched repeated attacks against their position, but were rebuffed. On 27 October, German infantry, made a determined attack on the position, sweeping the area with small arms, machine gun,and tank fire.
T/Sgt. Coolidge, armed himself with a bazooka with all the hand grenades he could carry, advanced to within 25 yards of the tanks. Although his bazooka failed, he crawled forward and inflicted heavy casualties on the enemy.
On the "line" for more than two years fighting in Sicily, Italy, France and Germany, it has been estimated Coolidge saw more front line action during World War II than any other American soldier, and – for all his time spent in combat and on the front line – was never injured in battle.