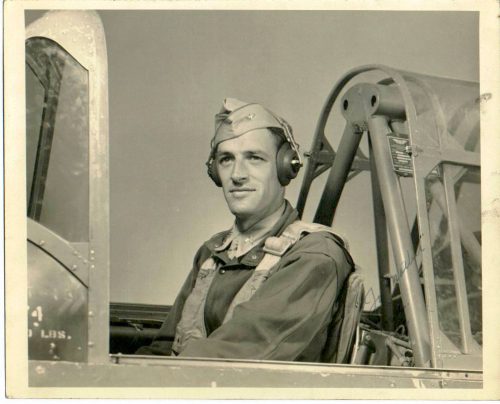 1st Lt Arthur "Ott" L. Lowery was the pilot of aircraft P-51C-7 with serial number 42-103346. He was on an area patrol mission to the Pas De Calais area.
Statement from 2nd Lt Charles E. Shake, Air Corps:  "On 22 June, 1944 at approximately 1215 hours, I was flying Lt. Arthur L. Lowery´s wing in Red four position. After we completed sweeping the area we went down to strafe a locomotive. I assumed a position behind and slightly one side of Lt. Lowery. As we went in on the locomotive, I noticed a lot of wire and lines. It is my opinion that he hit some of the wires. I was fairly low to them but he was still lower than I. His airplane rolled very slowly to the right, and when in a position of about 90 degrees bank, it struck the ground on the nose and right wing. The plane exploded and burned instantly."
Lowery was initially buried at Saint-André-Cemetery at Évreux, France and re-buried at Normandy American Cemetery, Colleville-sur-Mer, France; Plot A, Row 1, Grave 32.